There are many beautiful and interesting places, to visit outside the Kathmandu Valley - places of historical importance of noted for natural beauty. Most of them can be easily reached from Kathmandu by road or by air.
| | |
| --- | --- |
| | |
Located 29-km north-west of the Kathmandu city, the fabulous holidays area of Kakani features attractions ranging from beautiful alpine scenery to the magnificent Himalayan panorama particularly of the Ganesh Himal massif. Other peaks that can be closely seen from Kakani are: Gaurishanker (7,134m.), Choba Bhamre (6,109 m), Manaslu (8,163 m), Himalchuli (7, 893m), Annapurna ( 8,091m), and several other peaks.
Dhunche is linked with Kathmandu by a motorable road. Surrounded by high mountains on the north and the south the lake is grand and picturesque. There are other nine famous lakes such as Saraswati Bhairv, Sourya and Ganesh Kund, etc.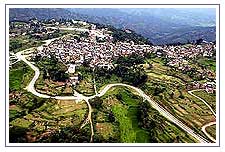 This ancient town is situated 30-km east of Kathmandu on the side of the Arniko Rajmarga (Kathmandu-Kodari highway). From here one can have a complete panoramic view of the snowy ranges from Karyolung in the east to Himalchuli in the west.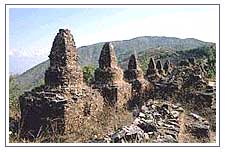 Helambu situated about 72-km north-east of Kathmandu is famous for its scenic grandeur and pleasant climate. There are many Buddhist monasteries amidst a rich and enchanting landscape. Sundarijal is the starting point to trek to Helambu which is mere 11-km away from Kathmandu.
Muktinath:
The famous temple of Lord Muktinath lies in the district of mustang and is situated about 18-kms north-east of Jomsom at an altitude of about 3,749m. The temple is situated on a high mountain range and is visited during fair weather.
There are two ways to get to Muktinath from Kathmandu. Either to take a direct flight from Kathmandu via Pokhara to Jomsom and hike for a couple of hours via Kagbeni or to trek all the way from Pokhara. There is also air service from Pokhara. There is also air service from Pokhara to Jomsom.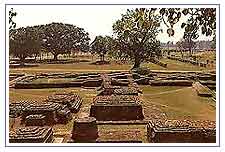 Lumbini is the birth place of Lord Buddha, the apostle of peace, and non violence. It is situated 250-kms south-west of Kathmandu. The broken Ashokan Pillar, remnants of old monastery, images of Buddha's mother Maya Devi, etc. are still preserved in Lumbini. It is accessible by air from Kathmandu to Bhairahawa. Also one can reach Lumbini in about 3 hours by bus or car from Tensen via Bhairahawa. From Kathmandu it takes about 8 hours by bus or car.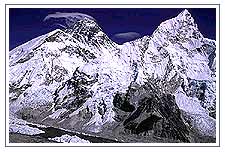 The name of namche bazaar is generally associated with that of Sagarmatha or Mt. Everest - the highest peak in the world. It is the entrance to the Everest region. Situated on the lap of Khumbu Himal range, Namche Bazaar is about 241-kms. From Kathmandu and the distance is generally covered within 15 days by trekking. This place is the home of the legendary Sherpas. One can fly from Kathmandu to Lukla and Syangboche in the Everest region.